Rooflines Fascias, Soffits, Gutters
We've been supplying fitting nationwide since the early 1990s and are experts in our field.
Rooflines supply and fit Fascias, Soffits, Gutters, Bargeboards and Box Ends to any type of property and also fit for dormer windows, garages, and outbuildings.
Welcome to the Rooflines Fascia page
Rooflines started in the early 1990s simply re-fitting a gutter for a friend. This led to the concept of replacement of old timber fascias with PVCu. Rooflines then looked at other manufacturers and decided on the best 'Swish' (combination of excellent long-lasting products that work seamlessly on any property) – and we have continued with it for over 30 years.
The two properties in this image were designed and built by the founder of Rooflines in 1972.
The left-hand property had Rooflines fascias, soffits and gutters added over fifty years ago and are still going strong. The right hand property was only upgraded to Rooflines new PVCu Fascias and Gutters in 2002 to match and are also still in perfect working order.
Would you love to have long-lasting, robust, and hassle-free fascias, gutter, soffits, and associated fittings, but thought it was too expensive? Rooflines have a proven track record of excellent installations and very satisfied customers. All our installations include a 10-year warranty.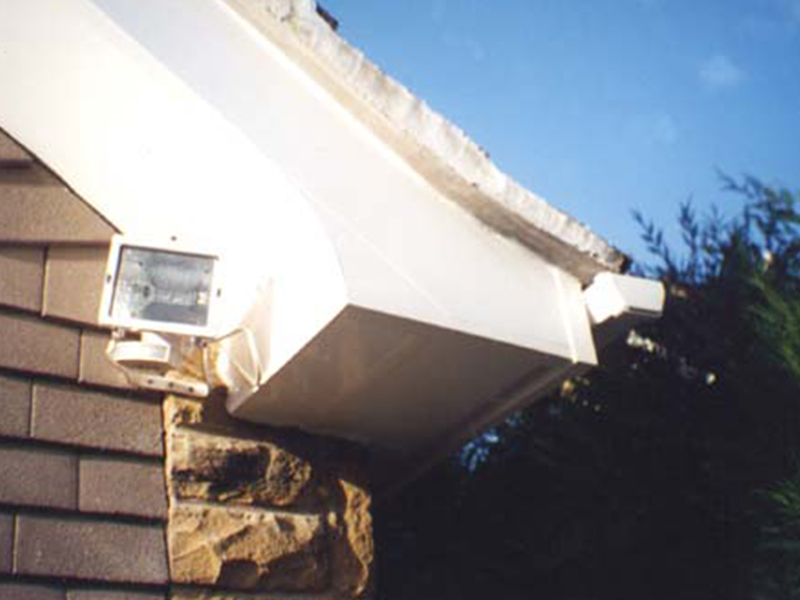 What is a Fascia Board?
The fascia board is a straight long board that runs just under the roof edge. It is a strong board usually directly attached to the roof trusses and it serves to support the lower edge of the last bottom row of tiles. It is also critical for attaching your guttering. Some fascia boards are ornate with patterns. Others are simple and strong because they need to support your guttering which can hold many gallons of water during a heavy downpour.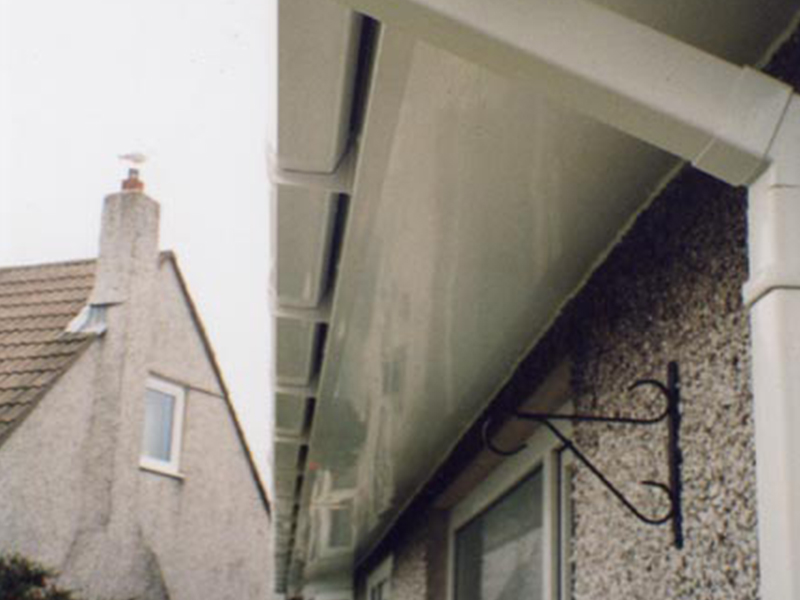 What is the Soffit Board?
The soffit board is a critical piece of your fascia/guttering/roofline equipment. This board sits under the fascia board and is the item you see the most if you look up at your roofline. Most people choose to have their roof ventilated across the top of the soffit board, but some have vents. Either way, the provision of ventilation in an area that handles lots of water prevents condensation build up and in the old days, wooden board rot and decay. A decent soffit really makes your house look well maintained and smart.
What is a Bargeboard?
The 'gable end' of a house which is the A-shaped section of wall between two intersecting sloping sides, (which can be the same size or different sizes depending on your property) has neat Bargeboards facing you against the roofline. This serves to complete the construction of the gable and is often used to infer even more character to your property. Some barge boards can be very ornate, whilst others are clean and simple.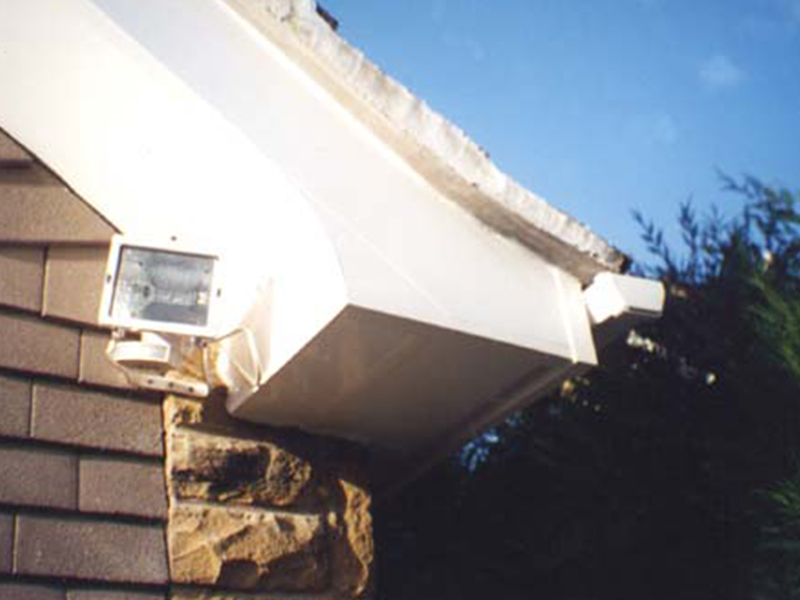 What is a Box End?
The Box End is the finishing bottom corner where all the angles and parts meet at the corner of your roofline. It is where the fascia, soffit and bargeboard meet and requires perfect fitting.