Gutter Cleaning

Gutter Clearing
Gutters are a practical and functional means of disposing of rainwater, integral with the pipes to discharge the water flow. They are simply a water channel, and not only do they collect rainwater, but they also collect debris, debris that can grow, grow into causing blockages and water ingress into your roof.
Gutters – whether they are functional, aesthetic with the design of the building, all have the same purpose; but today, gutters are not always laid to a fall, and are not designed to be either, silt and growth are inevitable.
Leaves, wind-blown items fall on the roof and discharge into your gutter. The few small particles that don't lodge, go down the pipes causing bends to be blocked with the unsightly damaging overflow of water around your property.
If your pipes discharge directly into ground pipes, they then also become blocked. The cost of clearing is expensive so it is better to keep your gutters and associated pipework cleared and cleaned regularly. It is much more economical in the long run. A few critical areas are corners, neighbours gutter running into yours, vice versa. In this situation, who is to pay the cost of unblocking?
Any time is a good time to have the gutters cleared out, you have the car serviced regularly, so should your home, especially the inaccessible parts you can't or reach. Our cameras will show all the detail.
The soffit and fascia cleaning service is for plastic replacement soffit and fascias, mostly in a white PVCu, some are a foil-covered plastic, usually mahogany or even black. Both white and coloured soffits and fascias need separate specialist cleaning approaches. The white can often have shade discolourations and the fittings can need special attention.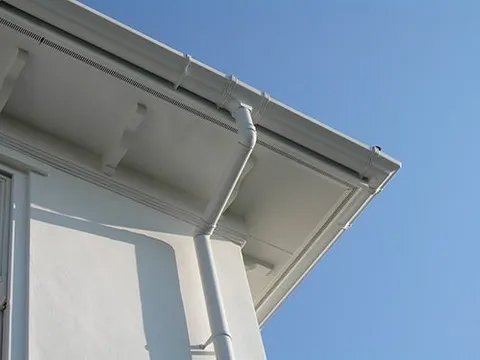 Rooflines has the equipment to either clean from ground level or at height to obtain the best effect for both types of fascia finish, some require our Rooflines cleaning products to remove marks and stains.
We generally find that most Fascias require a clean every 3 to 5 years. We also clean the facades prior to a home going 'on the market' – which creates a better impression and often a better sale price. Would you buy a dirty car, so you would rather buy a clean house?
We also have all the equipment to clean soffits and fascias at a high level and difficult to reach areas.