What is the Rooflines Gutter Guard System?
Gutter Guard is a patented, scientifically engineered gutter protection system that is designed to eliminate clogged gutters and downspouts. It maintains efficient water flow and drainage off the roof and away from the home preventing water damage problems to the roofline area, fascias, timbers, and roof timbers.
Existing methods simply don't work. The Gutter Brush system becomes clogged with the build-up of unsightly debris, the Mesh System ends up with a carpet layer of rotting leaves and the Simple Downpipe Balloon prevents your downpipe from becoming clogged at the expense of clogging your gutter with the result of significant overflow during downpours.
Includes a 10-year warranty.
Here are some of the main benefits of the Gutter Guard System:
Leaf and twig debris is deflected over the steps and falls to the ground below.
Saves the time and money spent cleaning gutters year after year unlike mesh or brush gutter defenders, which collect debris and have to be removed, pressure washed and re-fitted
Water adheres to the product as it flows over the downward steps, into the channels, through the drain holes and into the gutter.
Prevents birds and other rodents from using and dwelling in the gutter system, and gaining access.
An exclusive fin-leg acts as a sealing device that helps water and ice from backing up under the roof tiles.
Made of rigid polyvinyl chloride (PVC) for durability.
Cuts easily, while flexible joint adjusts for installation on roofs of any slope.
Fits ALL types of Plastic and Aluminium Gutter in various shapes and sizes – Black/White/even Brown
Finally, a system that works. Gutter Guard is a patented product now used across the UK. If you would like to know more about Gutter Guard, how easy it is to fit, and who your local Rooflines contact might be, then please get in touch.
"I had Gutter Guard fitted and it works perfectly. We have so many overhanging trees causing repeated gutter blockages, it became normal to climb ladders to clear them. Now we don't have to. This product seems so simple, but actually, a lot of common sense has gone into its design. Very pleased!" – Janet P, Farnborough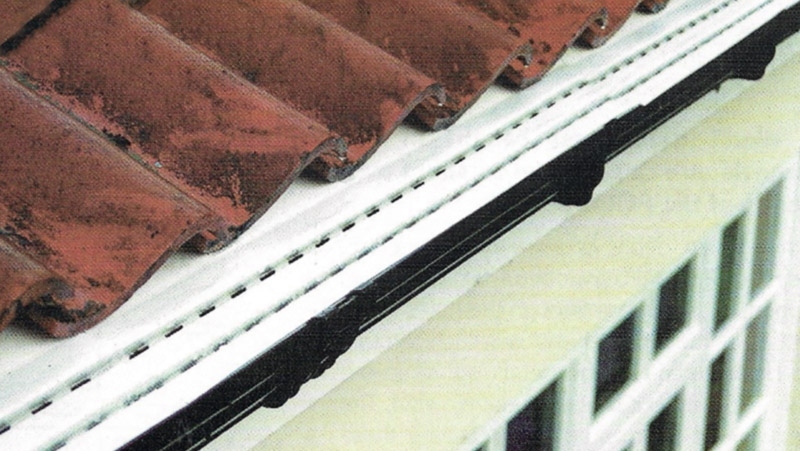 The Alternatives
The other methods that don't work
Gutter Brush System
These are not able to be fixed in place, merely rest in the trough of the gutter and until they become weighted with debris, they can blow out of the gutter with a gust of wind. Once they have been in use, they collect unsightly debris which can usually be seen from the ground. They do not prevent the downpipe from becoming blocked. As they collect the debris, they have, to be removed, cleaned, and re-fitted, this can be a costly annual task.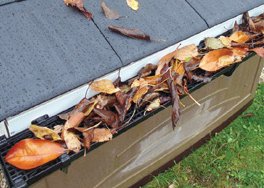 Mesh System
This system, usually plastic, some are aluminium, sits across the trough of the gutter, and they are really, only designed for the simplest round gutter, they are limited. They are awkward to fit, but the main problem is they collect leaves and debris on the mesh and it builds up to form a 'carpet layer of rotting leaves. This allows the rainwater to flow over the matted debris and straight onto the ground below; you might just as well take your gutters off and throw them away. To remain effective, usually, after Autumn, you have to remove them, often awkward to do, bring them down usually pressure washing is the only way to clean them, take them back up and refit again at yet a cost again.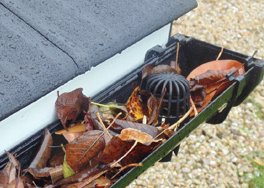 Simple Downpipe Balloon
These pipe balloons are fine if you have a low, short gutter length to maintain, a garage for example. They are usually plastic, can also be wire; they fit into the outlet of the gutter feeding the downpipe. They help to prevent leaves and debris from going down the Pipe and causing below ground blockages. On the main roof, a different matter; leaves and debris backs up and blocks the outflow of rainwater. – you don't see this build up until it's too late. Then, you, have to go up and clean the gutters out – costly, usually annually. Was the Balloon worth the few pounds?